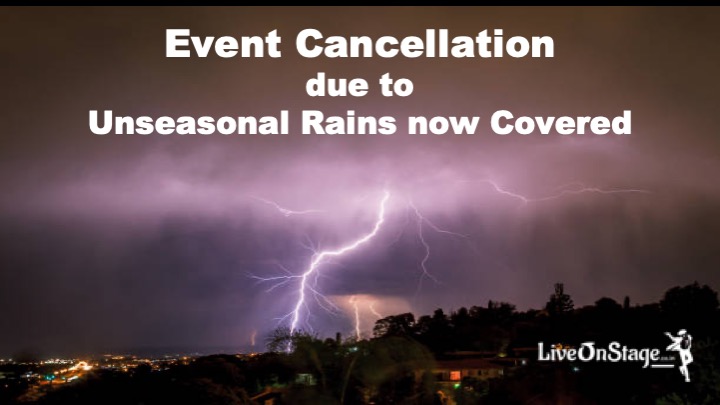 Event Cancellation & Postponement Insurance Coverages at a glance
Event insurance helps organisers protect their events against unexpected situations which would otherwise leave them subject to hefty costs, potential lawsuits and loss of business.   In fact, planning for event insurance is something that should be at the top of an organiser's to-do list as leaving it late may mean not finding the cover you need, or even not getting Covered.
If you are Planning an event make sure you have appropriate event insurance in place, which can help protect your event from those unforeseen circumstances and losses to your business namely
Event Cancellation & Postponement Insurance Policy with (Ad On's additional coverages)
Adverse Weather – unseasonal rains, Storm, Cyclone, Tempest, Hurricane
Cancellation due to Fire & Allied Perils
Riot, Strike and Malicious Damage (RSMD)
Power Failure or grid failure due to Nat Cat Peril subject to availability of Generator Backup.
National/ State Mourning only due to death of PM/ President/ Vice President / CM of State in which event is taking place and terrorism.
Terrorism acts and threats
Strike in public transport prior to the event leading to Event Cancellation.
Bandh Civil Unrest
Non – Performance / Appearance of artist (only named artists will be covered)
Coverage for Unrecoverable Out of Pocket Expenses & Deposits – Which will cover deposits and advances payed to vendors, hotel bookings, flight bookings etc
We will require proper contracts, agreements, invoices with your vendors during Claim settlement. 
Request you to kindly
call us back on 9967066845
email us on yourinsuranceconsultants@gmail.com
so that we can discuss your Event Insurance requirement in brief and advise you on the same.