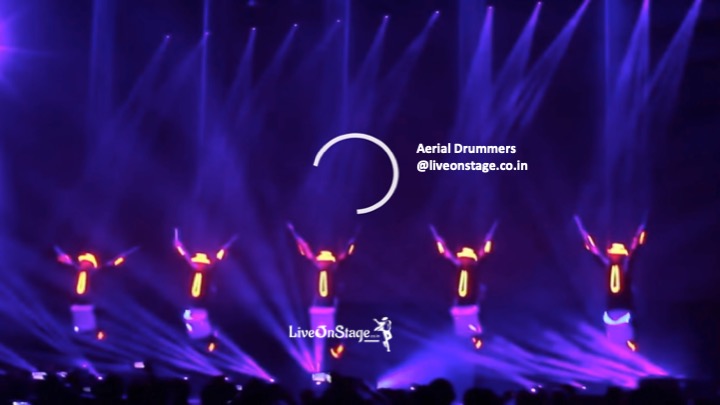 ---
---
Live On Stage Aerial Flying Musical Show
Live On Stage aerial flying musical show is one of the most amazing high tempo pulsating shows we have to offer. They combine music, with drums mastery at the aerial field.
Evolving at great heights, our musical artists will orchestrate a choreography and an unforgettable visual moment.
Our Drummers fly high above your crowd delivering pulsating rhythms and performing high octane drumming sets from 40 feet up in the air.
Drummers are flown into the air with our state of the art Aerial Rigging system performing a stunning drum show with eye-catching LED-effects. The show creates a strong audio-visual impact. Drums and costumes flash and are choreographed and synchronised to powerful beats of the drums. Powerful sounds are combined with the elegance of an aerial spectacle.
They Guarantee to gather huge crowds and wow audiences of all ages. This aerial drumming act is incredibly effective for making a big WOW impact at every event.
With a scalable line up that can go up to six to ten performers these drummers are a guaranteed hit wherever they go. Wearing customisable costumes that complement your event effortlessly our aerial drumming act boasts next level event entertainment that stands out from the rest.
With the ability to perform on building facades, stadiums and arenas, event halls and more this exquisite performance has every spectator looking to skies and thoroughly enjoying the live music performance from above. Perfect for corporate events, private functions, sporting events and grand openings – these outstanding drummers are the ultimate event entertainment choice.
We create moments at event that are unforgettable and out of this world. Whether you are looking for a main stage performance or a ambient drumming act to set the tone at your event, Live On Stage Aerial Flying Musical Show can tailor every performance to complement each individual event.
We can incorporate Aerial silk artist, Aerial Net artists, Aerial Hoop Artists, Fire Performers along with the Aerial Drummers to make the show larger than life and create a Musical Visual Spectacular
To book our Aerial Flying Musical Show or for more information about booking an aerial drumming act for your event, Please call us back.