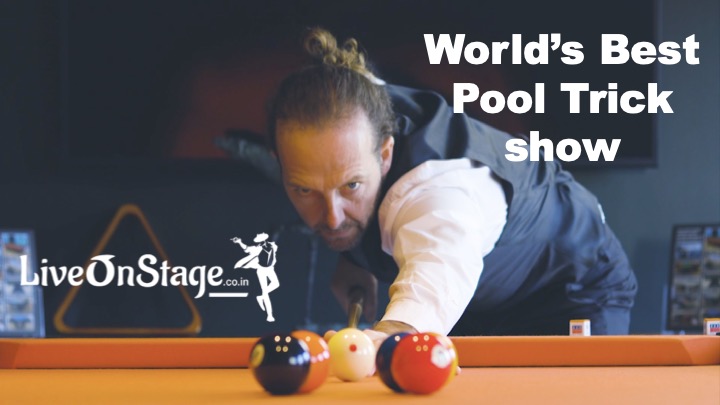 Live On Stage – World's Best Pool Trick Shot Shows
Live On Stage Pool Trickster's spectacular Trick Shot shows has been seen all over the World. From the islands of Indonesia, all over the US, Europe and in front of MP's at the Houses of Parliament our Pool Trickster has left audiences amazed and entertained.
A skilled host, networker, entertainer and performer, our professional pool player is the perfect snooker star to run a tailor-made fun tournament, host your party, or entertain at corporate events.
Our Pool Trickster has toured the world as a champion pool player for over 25 years and is Considered the pioneer of professional pool in the Netherlands, he is part of their "golden generation", which has now spawned top pool stars such as Nick van den Berg, Niels Feijen and Alex Lely.
He has featured regularly in World Championships matches live on Sky Sports & ESPN Star Sports in front of live viewing audiences of over 50 million, has graced billboards all over Asia and is also regarded as one of the most feared hustlers in the world.
He has hosted over 500 corporate pool events and has featured as an expert on the BBC, ITV, History Channel, on various commercials and has been on set as a pool advisor on major Hollywood films.
Having advised a number of actors for TV and film, as well as choreographing complicated tricks for adverts, shows, entertainment and more, our experienced snooker pro is sure to blow you away.
Also offering a unique and engaging team building experience, your guests will be the stars of the show as our pool coach individually critiques their technique. Coming away with a wealth of tips and tricks that will improve their game, guests will love learning from the experience and skills of our European champion snooker pro.
Able to perform incredible trick shot shows, guests won't believe their eyes as our professional pool player effortlessly achieves elaborate shots and tricks.