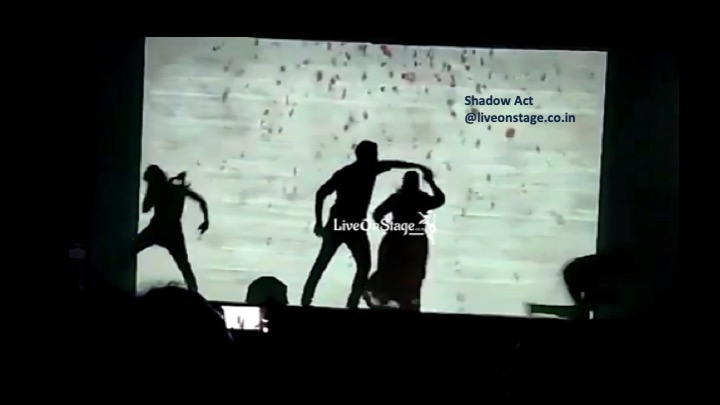 LiveOnStage Shadow Theatre
Performed by a highly-skilled group of dancers who perfectly coordinate their moves with bespoke visual effects and music of your choice
Dancers fully customize their routines and create bespoke shows especially for your event theme.
From visually stunning high-impact dance performances to incredible shadow shows created with just hands and body movements, our shadow acts will capture your imagination and transport audiences to a magical world of light and shadow. 
Shadow Theatre is an Unique entertainment that transcends cultural & linguistic barriers. Bespoke performances can be created to tell specific stories & messages, It also Offers a powerful way to promote brands, products, services etc
With themes including Wedding, Patriotic, Culture, Religious, Sports, Travel, Space and Human relations, our acts can offer something for everybody. Inherently easily customisable, shadow shows allow for the realisation of the most daring and creative ideas. Products, images and branding can easily be added into performances or bespoke stories can be created on request! 
Perfectly suited for corporate events, gala dinners, product launches and private & Birthday parties, our shadow performers have proven track records holding audience's captive at events for big Corporates, Television Shows, Government Events.
Live On Stage Shadow Theatre can be booked for your Live events or Virtual events. kindly call or email us your requirements for an immediate reply.