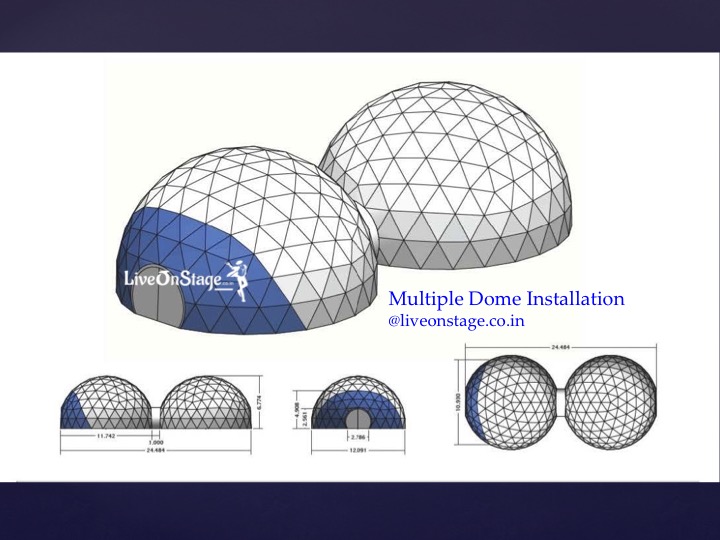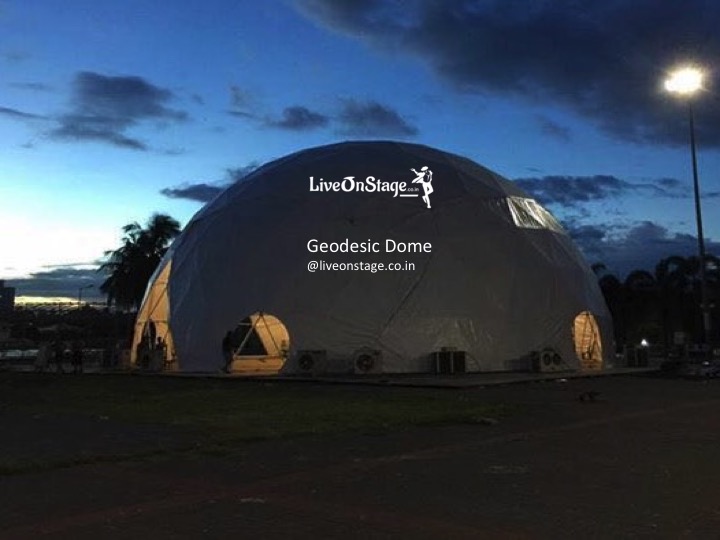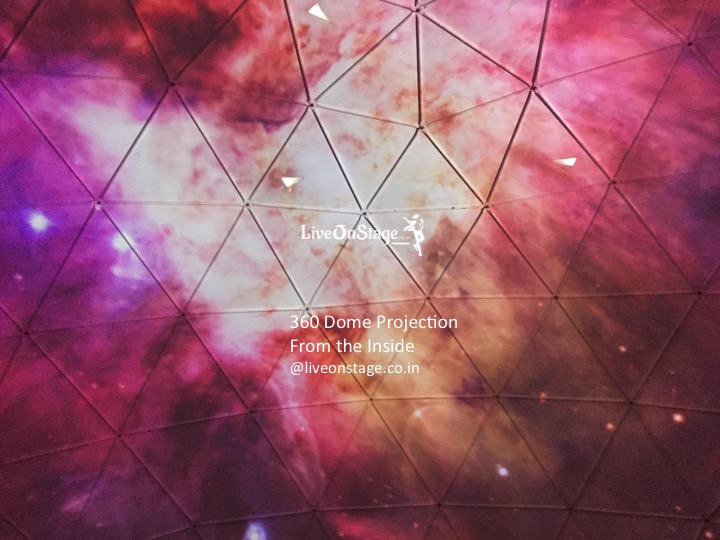 360 Dome Projection Now in India
Live On Stage Entertainment Private Limited has tied up with a specialists 360°° Full Dome Projection Mapping and Environmental Engineering company from Uk with over 15 years of extensive experience in geodesic domes and stage works.
The geodesic dome is acclaimed as the strongest, lightest and most efficient means of enclosing a space. They are designed to withstand hurricane force winds and extreme snow loads. Our framework is extremely strong and can support a large range of suspension equipment such as lighting and sound equipment.
We can engineer an environment that will captivate any audience whether it's an VIP party for 20 guests or a sporting event for a 3000….
Our Partner's have managed many large-scale geodesic dome events & audio-visual installations, such as the global launch of Samsung's Smart TV New York, Ernest & Young Christmas party Warsaw, O2 dome @Electric Picnic Ireland, ShowTech Berlin, ShowTech Italy, Nokia dome @EP Ireland, Roots Society @Burning Man USA, Ultra Music Festival Miami, Melbourne Music Week and many more events.
How we work:
Our passion lies in cutting edge event space and our objective is to deliver an aesthetically perfect structure. We can create an unforgettable event. As part of a team of creative specialists we will work with you on every element of the planning including geodesic dome India layout and design. We can create and execute projection mapping for a 360° full dome immersive experience, including Surround Sound audio & visuals, production
management and much more.
Our Client Lists:
Nokia. Siemens. Coachella Festival, Electric Forest, Melbourne music week, Audi, Nike, Heineken to name a few.
Geodesic Dome Rentals:
We offer full, geodesic domes rental service to our clients in India.
Our sales team will work with you to understand your goals and objectives and develop a full event schedule that is engaging, interactive and delivers.
Our team of experienced technicians will work with you on every element of the planning including geodesic dome layout and design, projection mapping, audio & visual, production management, flooring solutions, transport management and much more.
We have successfully completed events in the USA, Europe and Asia. We have a proven track record delivering services for international events. We provide complete logistics solutions, installation and crewing for events internationally.
We have bases in Europe, USA and Asia. Our team will assist you in shipping, customs and freight requirements to deliver our structures to site on time.
We have strong strategic relationships across the globe with agents that guarantee deliveries; paperwork and goods arrive on time and on budget, what's more we have a full global public liability insurance & employee insurance for peace of mind, so your event is covered in every respect.
Geodesic Domes in India comes in a variety of sizes starting from 8meters diameter to 30meters in diameter.
Internal Projection Solutions:
Dazzle your audience R screen technology™ is a seamless projection liner, which we have developed to be one of the most Advanced projection surfaces available. This creates a complete immersive environment where fantasy blurs the lines of reality.
R screen™ was developed with our own in house design team and collaboration with our projection partners who were looking for a system that would reproduce any virtual world. R screen can be configured for different applications, whether its 3D projection in passive or active, we offer different projection surfaces to suite multiple applications. Our geodesic projection domes can be hired as a full dome projection space with all the projection equipment included, or we can supply media servers, projectors and our fully qualified technicians.
We are leaders in seamless projection systems, we have developed the R screen technology which utilises the latest projection materials in our negative pressure system. The projection liner is a seamless 360° projection screen, this immersive environment is backed up with our media servers. We offer a turn key solution with the fasted dome mapping in the industry saving time and money for our clients.
Imagine & Build………….Your universe in a dome.
Kindly call us back for a detailed Conversation on how we can incorporate Geodesic Dome along with 360 Projection at your events and weddings.